Packaging Machine Blade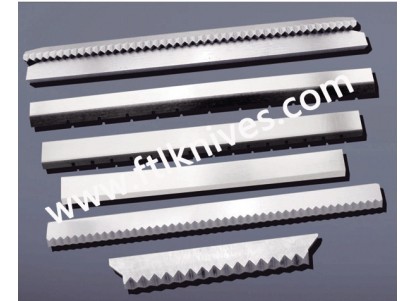 Zigzag machine blade pillow packaging
Food Packaging toothed blade
◆ The company refined variety of cutter products, excellent quality, flatness privileged. When the strip is cut using the processing items , they may be based on different shapes, sizes and varied.
◆ Material :65MN \ SK-5 \ SUS-440C \ 420-J2 \ SKD-11 \ SKH, according to need.
◆ Main purpose : Making machine tools , sealing machine tools , plastic knives , rotary presses with knives, Candy packaging machine knives, EPE cutting machine knives, plastic paper cutting knives and all kinds of packaging machine tool.

Our products have been tried and tested over the last 10 years by numerous satisfied customers in a variety of industries:
AUTOMOTIVE – Tungsten Carbide Blades, Industrial Safety Razor Blades; Scraper Blades; Circular & Flat Slitters.
FOOD & CONFECTIONERY – Flow Wrap; Form, Fill & Seal; Zig-Zag Knives & Anvils; Straight Knives & Anvils; Serrated / Toothed Blades, Scallop; Case Sealers
PAPER – Rotary Cutters; Circular Blades & Bottom Anvils; Core Cutters; Granulator; Guillotine; Perforating, Industrial Blades
PLASTICS – Dished Slitters; Hole Punches; Finger Punches; Heat Sealing; Pelletizer; Recycling; Extruder; Saw Blades
TEXTILE & FOOTWEAR – Staple Cutters; Hook Blades; Carpet Tile Cutter Blades; Clicker Blades; Roller Die Blades; Pointed Tip Blades; Perforating; Hole Punches
SAFETY KNIVES & REPLACEMENT BLADES – Slice Ceramic Blades; Metal Detectable; Trapezoid Blades etc.