Stainless Blade
Stainless blade are vital accessories required for different industry verticals in various forms, makes and models. They are made of stainless steel and other metals that are tough and durable. If you are looking for high quality and advanced knives and stainless blade for your industrial requirements, you have come at the right place at FTLKnives.com – an online venture of FengTeLi Machine Blade Co Ltd. We are the top manufacturer and supplier of high quality blades that you can choose from the comfort of your home/office.
FengTeLi Machine Blade Co Ltd is a one stop reliable and well-established manufacturer of high quality, durable and certified stainless blade, knives and a variety of other cutting accessories and tools that are used largely in different industry verticals. You have to choose the right make and model according to your choice, go through the details, add to cart the right one and place your order. Features, specifications and details with images are provided to you so that you can make the right decision in selection of the right models of stainless blade.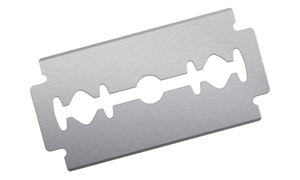 We are a customer-centric company - committed to develop all kinds of high-precision products to replace imported products responsibility. We are offering such advanced stainless blades and knives for food processing units, rubber and paper industry, medical and healthcare domain, for hospitality, for use in civil, electronic, food packaging and different other domains. Quality is our main focus and we ensure that each stainless blade and knife you choose from us is delivered after checking and testing to assure its durability and good performance.
FengTeLi sells a wide selection of Stainless Blade. All of our stainless blade are 440 stainless steel that has been heat treated and pre-sharpened. The overall quality of these stainless blade are kept to a high standard. If for any reason you are unsatisfied with the blank that you have received please contact us and we will be more than happy to help you correct the issue.