News
We are the Experts in Manufacturing Custom Slitter Blades
Views: 412 Update Date: Dec 02 , 2021
Slitter blades have a design meant to slit a wide range of materials in various applications. They find use in many industries because of their ability to cut materials such as paper, plastic and textiles. Most slitter blades feature a beveled edge for optimal cutting power. A beveled edge allows a blade to slit material instead of creating standard cuts. When a slitting knife has the primary purpose of making punctures, it will have teeth. These teeth create smaller slits in progression, such as the ones found on tear-off paper products. Our sales engineers can help you determine which blade solution will work best for your application.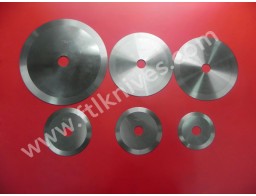 At FengTeLi Machine Blade Co., Ltd., we manufacture all of our slitter blades in-house. As an original equipment manufacturer, you'll appreciate our competitive prices and fast turnaround times that allow you to maximize your profits. If you get our blades as an end-user, we will listen to your needs to design a personalized solution. We consider your business goals our business goals.
Ftlknives is among the largest manufacturers and suppliers of replacement rotary slitter blades for both slitting and side trimming. As with all of our products, we manufacture our replacementslitter blades from the best alloy tool steels and engineer them for your unique application. We are highly specialized in manufacturing custom circular slitter blades and rotary slitting blades per sample and drawing. If you need your knives manufactured to your exact requirements, please contact us now get to a free quote. If you have a drawing, sketch or written specifications for the blade you need, please let us know.
FengTeLi Machine Blade Co., Ltd.can supply replacement slitter blades to fit your equipment. We stock blades to fit all popular machines and can custom make slitter blades to your specifications. Ourslitter blades are manufactured using state of the art materials and the latest technology and production techniques. We start with the highest quality European forged material, vacuum harden and triple temper to Rockwell held to ±1, then finish with lapping and polishing to produce the finest metal slitter blades. Our production facilities allow us to produce knives with a flatness, parallelism, surface finish and tolerance unmatched by our competition with 100% inspection before shipping.