News
Get Full Range of Latest Slitter Blades from FengTeLi Online
Views: 836 Update Date: Dec 14 , 2017
Now, you can buy a new range of high quality, durable and advanced slitter blades at competitive rates without going anywhere. FengTeLi Machine Blade Co Ltd is a one stop reliable and reputed manufacturer bringing to you the best quality blades. Product range include machine blades, industrial blades, circular blade, slitter blades, cutting knife, carbide blade, serrated knife, food blades, stainless blade, paper cutting blade. We have37,000 square meters modern production plant locating in Maanshan city. FTLKnives is the online venture from where you can collect information, know about the features and specifications, choose the knives and then place your order.
Our team of experts takes responsibility of complete documentation to deliver it to your address on time and without any delay. We are located in the beautiful steel field of Maanshan–a few km from Nanjing Airport. Our products and services are accessible with high quality and performance. We are always regarding customer's demand as our guidance, new technologies and materials as fundament to continuously improve the quality and meet customer's demand. Research and development has given FengTeLi the ability to provide solutions to complex problems, which are an integral part of our customer's success, and providing our customers with an appreciable competitive advantage.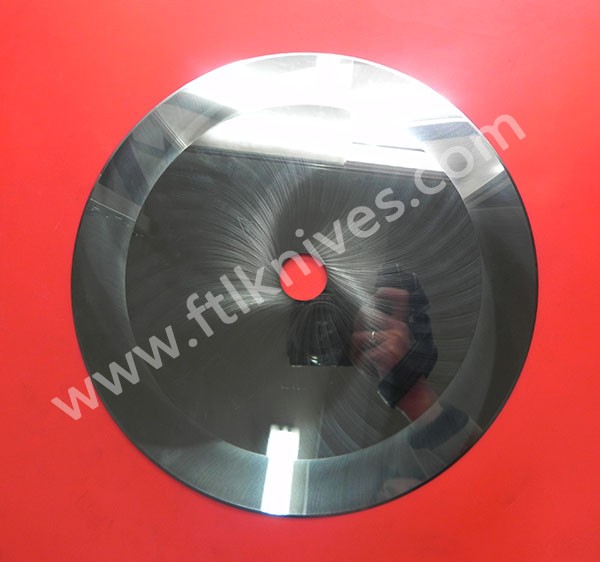 FengTeLi Machine Blade Co Ltd is to satisfy the customers requirements in terms of product, specification, condition, processing, packaging and delivery. By utilising customer satisfaction monitoring, internal and external complaints analysis we aim to continually improve our service with the objective of developing lasting business relationships. Professional engineering and experience combine to produce blades of the highest quality to give the best possible performance in your application. To achieve these objectives it is Group policy to establish and maintain an effective and efficient Quality Management System. The Quality Management System and its operation are assessed by the company, Group through auditing and review to ensure it remains appropriate for the business and looks to continually improve the level of service to our customers and the business performance.
FengTeLi has the largest stock in China for slitter blades. We provide all types of injector blades, 43mm "3-hole slitters" and slotted blades. The converting and slitting industry is very important to us, so we offer all these blades in a wide range of thickness, materials, coatings and edge geometries. We are thus able to always ship these items the same day they are ordered.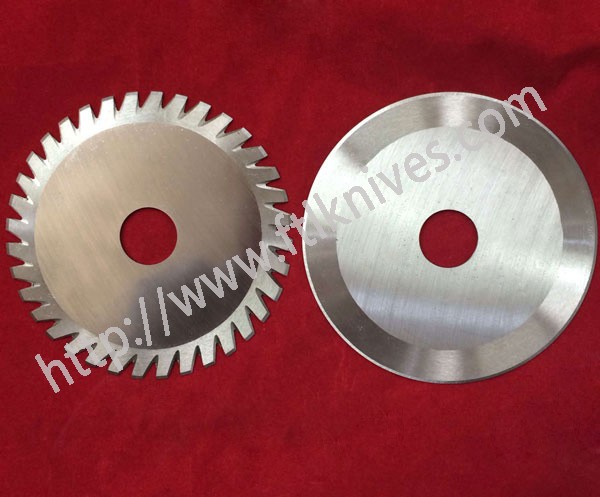 A slitter blade means many different types of blades. We also supply a full range of circular slitting blades. We stock shear cutting blades that act much like a pair of scissors. The top blade run against the side of the bottom blade and this shearing action works well when edge quality and long life is important. We also have all types of crush cutting blades (most are 3" in diameter) where the blade actually "crushes" through the material against an anvil blade. This application is used on harder to cut material where edge quality is not as critical, but the economy is. Razor slitting is often used when narrow strips are required or when the application is the need for there to be only a small bit of material displacement as the cut product passes by the blade. Regardless of the slitting application, we know the business and can help!
We offer slitter blades in stainless and carbon but also use tungsten carbide and zirconium ceramic. The last two types will last much, much longer, but they are more expensive and less "tough". However, if you have a controlled application where blade breakage does not occur and not shutting down your machine to replace blades, will save you money, these materials can be excellent choices. We introduced the first successful solid tungsten carbide blades over 35 years ago so we know a bit about these blades, just ask!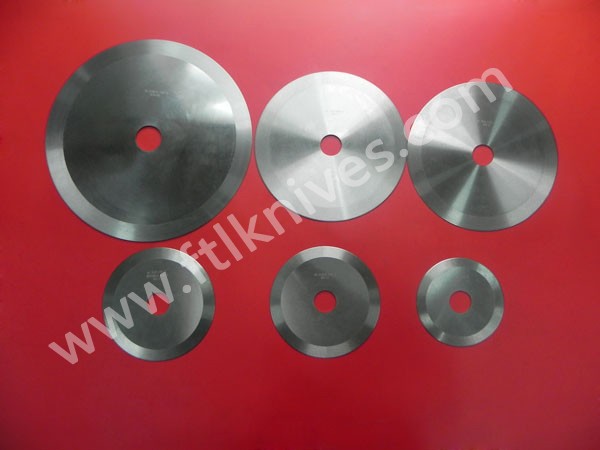 We also stock many coated blades, using Titanium Nitride (TIN), Boron Carbide (ceramic coating) and (Titanium Carbide) TIC. TIN is much less costly, but offers a little longer life, while TIC lasts much longer, but the heat required to apply it makes it sometimes warp, a problem with thinner blades. Often our Ceramic Coating is the best choice, as the blades will not bend during coating and it offers a very long life. All these coatings work best in certain applications, so ask us which would be best for you!
Our focus is to make consistent quality blades where the 10,000th piece is as good as the first piece. You don't just need one good blade; you may need thousands of good blades! We can modify the edge geometry to make the blade cut best for your application. If you need slitter blades with a single bevel, a double bevel or even a compound double bevel, we can do it.